Sale!
Sunglasses UV Polarized 80's Retro Classic Square Frame Mens Women shades black stunners
Description
Frustrated with losing another pair of brand name sunglasses? Worried about fragile quality among the similar outlooks? Don't ever overpay again. SUNIER offers you better daily wearing experience with a much lower cost but high performance. We consistently provide the most 
high quality
 and 
fashionable 
sunglasses, adhere Italy design concepts and coolest style, SUNIER obsessed with using innovation and design to create the sunglasses people truly love.
WHY YOU SHOULD WEAR SUNIER POLARIZED SUNGLASSES?
SUNIER retro sunglasses for men are as state-of-the-art as they come. From Classic design to the Leading 9-layer Lens Tech, these polarized sunglasses for men are as advanced as science can make them. Real 9-layer HD polarized filtration lens tech differentiates us from other ordinary so-called 9-layer lens. SUNIER retro polarized sunglasses can filter out 99% of reflected glare without haze or optical distortion. These mens polarized sunglasses provide you a higher clarity vision without any difference of color in front of you to see clearly and more comfortably. SUNIER UV400 rated sunglasses can effectively block 100% harmful UVA, UVB & UVC rays. UV400 rated sunglasses is essential to protecting your eyes against long term UV damage, minimizing damage to your eyesight in the long run while engaging in driving, golfing, running, fishing, climbing, trekking and other outdoor activities.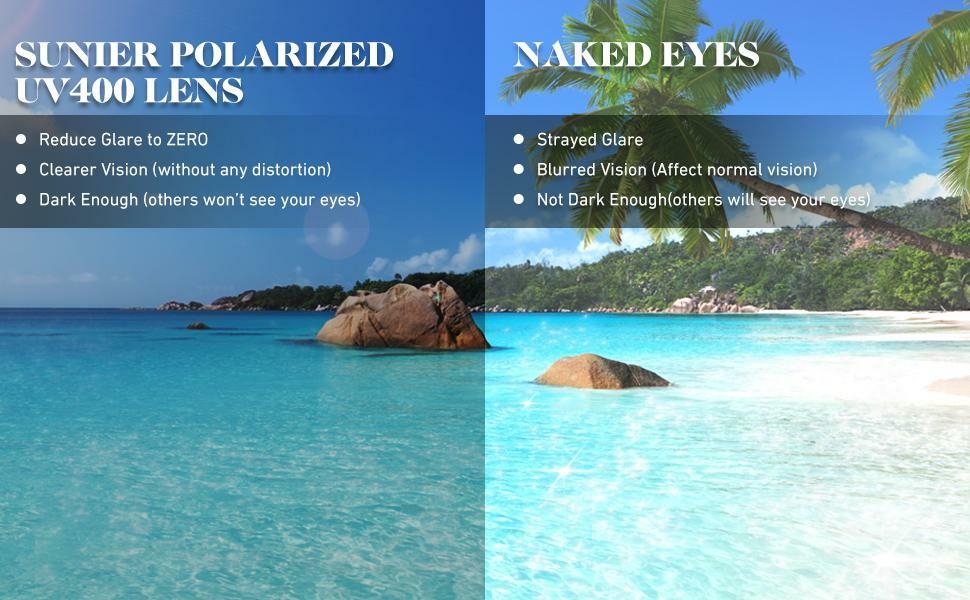 We continuously upgrade our products to provide you with a better purchasing experience.
Q : Are these sunglasses polarized? Very dark lens? A: Yes and Yes. Q: What's the size of the temple? A: We've updated the previous version. The temple length is 145mm so you'll fit better. Q: Are these square sunglasses truly polarized? Will the lenses produce a 3D effect? A: Don't worry. The relevant staff will carefully check the polarized effect of each pair of sunglasses. Under strictly control, the fine cutting and reinforcement of the lens edge enhance the stability of the product.
KEY FEATURES
Imported
Polycarbonate frame
Impact Resistant TAC lens
Polarized
UV Protection Coating coating
Lens width: 2.13 inches
Lens height: 1.65 inches
WHAT'S IN THE BOX
1 pair sunglasses
SPECIFICATIONS